ESONE PTFE coated fabric is used in a wide range of electronic applications, such as Copper Clad Laminate(CCL) manufacturing, FPCB manufacturing, LCD conductive film bonding, cable wrapping and others.
Due to the excellent dielectric strength, easy release surface, outstanding dimensional stability and durability in heat, flame resistant and great mechanical strength, electromagnetic solenoids benefit from ESONE long lasting and high performance product.
Copper Clad Laminate(CCL)
Copper Clad Laminate(CCL) is a type of basic material of PCB, it is laminated with copper clad on both sides, and reinforced with resin soaked glass fiber fabric.
With the development of 5G communication technology, high frequency printed circuit board is requested.
Because of the following superior property of PTFE Glass Coated Fabric, ESONE product is used as reinforcing material in CCL production, which can meet the high request of High frequency printed circuit board(HFPCB).
★  Non-stick surface, good release property.
★  Good welding property
★  Continuous working from -170°C to +260°C
★  Dimensional stability
★  Good dielectric strength
★  Resistance to microwaves, UVs and IRs and HF.
FPCB is Flexible printed circuit boards, which is a modern flexible electronic equipment types, using in printer, phones, cameras and home devices. Flex circuit is more smaller, reliable and dynamic than rigid circuit boards
ESONE PTFE coated fabrics with or without adhesive is the product of choice for CVL (coverlay) lamination, due to the excellent release property, high dielectric strength and mechanical strength.
Our very smooth, easy release and defect-free PTFE coated fabric, is designed to enable maximum output in highly automatic process and can be also used as releasing layer and in quick lamination.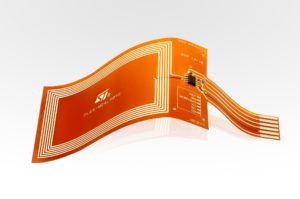 Low Friction Linings for Printers
Printers are an integral part of the office, and how to reduce printer energy consumption and improve printer efficiency is a project that printer companies have been studying.
Used as printer components, ESONE low friction linings act as a linear glide bearing within high speed, high productivity printers. They facilitate consistently-smooth movement of the paper over many thousands of cycles by reducing the frictional force required.
Compared with any lubricants used in the printer, ESONE low friction liner has superior stability in contacts with a heat source. ESONE fabric can continuously use over millions of cycles due to the excellent wear property.
PTFE film and PTFE coated fabric is generally used on TFT-LCD Module and PDP Module process, especially in ACF Bonding process of TFT-LCD Module, this film's function is shock-absorber of bonding tool and protecting glass panel from breaking damage cause by particle and unbalance of PCB size.
ESONE PTFE coated cloth is used for electrical insulation such as aerospace wire wrapping and electrical coil and phase insulation.
Our PTFE Fabric has excellent mechanical strength, high dielectric constant, strong chemical resistance and heat resistant to 500°F/260°C.
ESONE PTFE fabrics are also used as linings for the coils of superconducting magnets in order for reducing noise and vibration.
PTFE Tear Resistant Fabric for Electronics
Image
Style
Standard Width(mm)  
Please ask for other widths
Normal Thickness
(mm)
Weight
(g/m2)
PTFE Content
(%)
Tensile Strength Warp/Fill
(N/cm)
YS9008AT-ESONE
1000
0.075
135
64
190/180
YS9011AT-ESONE
1000
0.115
235
54
240/230
YS9015AT-ESONE
1000
0.15
295
63
360/330
YS9023AT-ESONE
1000
0.23
490
59
560/540
PTFE Tear Resistant Adhesive Fabric for Electronics
Image
Style
Standard Width(mm)  
Please ask for other widths
Backing Thickness (mm)
Total Thickness (mm)
Weight
(g/m2)
Adhesive
(N/cm)
Tensile Strength Warp/Fill
(N/cm)
YS7007AT-ESONE
1000
0.07
0.115
130
4
150/141
YS7013AT-ESONE
1000
0.13
0.17
270
4.5
270/250