ESONE's product is apply to a large range of textile manufacturing, such as garment fusing, digital printing and drying, textile lamination, non woven fabrics manufacturing, casting and curing process, carpet flooring mat manufacturing.
Our product is offering long lasting and high performance, in order to maximum customers' equipment up time and improve the quality of product.

Non woven fabric manufacturing
The heat resistant and non stick PTFE coated belt, is the critical feature of the thermal bonding process of non woven manufacturing.
During the drying process, the cotton with or without glue, the fiber with low melting point need to be dried and cured, then a PTFE mesh belt or PTFE heavy duty belt will be needed.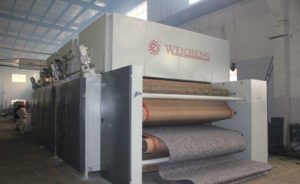 Digital Printing and Drying
Digital printing is a modern way to print pattern, different from traditional printing, digital printing minimize the printing cost and speed up the printing time.
PTFE mesh conveyor belt is used in the digital printing and drying, since PTFE mesh belt is Non stick, heat resistant, easy to install and cost-effective.
Fusing process is a important method of fabric joining in apparel manufacturing, this process is used to attach the interlining of shirt or outwear. By melting the resin coating of interlining into fabric under heat pressure, both fabric and interlining will be attached strongly when it becomes cool and hard.
For the fusing machines, every operators are allocated to the PTFE Endless Belt, this no joint Teflon conveyor belts allows exact positioning of the parts. Fusing machines are also used in the furniture and automotive industry for applying knitted spacer, foams or non-woven fabrics to leather.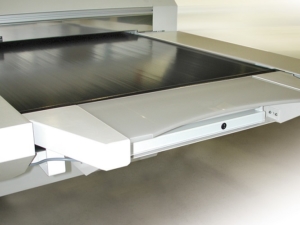 ESONE® PTFE mesh belts are coated with high quality PTFE resin, the basic material is woven open mesh fiberglass or aramid fabric (like Kevlar) or Nomax. The main applications is screen printing, drying industry,packaging industry, textile industry, wood processing industry and so on, which is used as heat resistant and non stick conveyor belt to transport materials through ovens. PTFE open mesh fabric is FDA & LFGB certificated, can be used in direct contact with food.
PTFE mesh fabric for Textile manufacturing
Style
Mesh Size
(mm)
Weft
Color
Weight
(g/m2)
Tensile Strength Warp/Fill
(N/cm)
YS6001
1x1
Single weft
Brown/White
440
430/285
YS6003
4x4
Single weft
Black
540
300/440
YS6004
4x4
Single weft
Brown
540
300/440
YS6007
4x4
Fill-Fiberglass
Warp-Kevlar
Brown
560
690/460
YS6008
4x4
Double weft
Brown
575
370/690
YS6008S
4x4
Double weft
Stronger fiberglass yarn
Brown
720
540/700
YS6008HS
4x4
Double weft
Much stronger fiberglass yarn
Brown
1200
700/750
YS6012
4x4
Double weft
Black
600
300/690
YS6013
10x10
/
Brown
/
/
YS6014
2x2.5
/
Black
/
375/280
YS6015
2x2.5
/
Brown
/
375/280
YS6016
2x4
/
Brown
/
/
YS6016S
2x4
Stronger fiberglass yarn
Brown
/
/
YS6018
8x8
/
Brown
/
/
PTFE Heavy Belting is heavily coated with PTFE for use in the carpet industry, this PTFE fabrics has great release properties and long life times.
With different structural weaving types, ESONE is offering several types of impression to the finished products.
The applications including rubber curing in ovens, walk off mats producing, Luxury vinyl tile manufacturing, PVC backed carpets and so on.
PTFE Heavy Belt for Textile Manufacturing
Style
Standard Width(mm)  
Please ask for other widths
Normal Thickness
(mm)
Weight
(g/m2)
PTFE Content
(%)
Tensile Strength Warp/Fill
(N/cm)
YS9035AJ
1000, 1500, 2600
0.35
680
64
540/508
YS9045AJ
1000, 1500, 2600
0.45
900
55
540/508
YS9060AJ-ESONE
2500, 2760
0.60
1170
50
880/840
YS9063A
2350
0.63
1140
48
880/840
YS9066A
2260
0.66
1050
45
890/850
YS9068A
2450
0.68
1015
41
890/850
YS9070A
2550
0.70
1100
46
860/820
YS9075A
1500
0.75
750
40
780/760
YS9076A-1
2350, 2550
0.76
1015
43
800/780
YS9076A-2
3800
0.76
1150
50
840/800
YS9079A
3800
0.79
1290
55
840/800
YS9088A
1230
0.88
1230
42
1200/1100
YS9089A
3800
0.89
1085
38
1120/1020
YS9090P
1500
0.90
1150
25
1200/1100
YS9090A
2800
0.90
1610
52
1300/1200
YS9094A
1600
0.94
1050
20
1200/1100
YS9095A
1500, 2600
0.95
1385
36
1200/1100