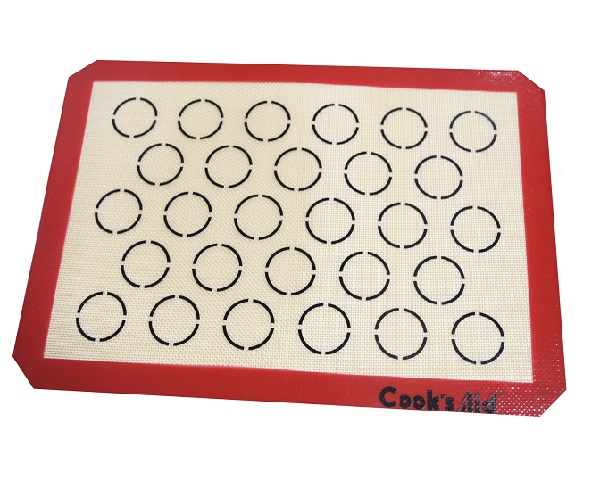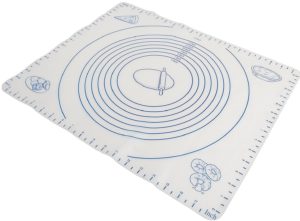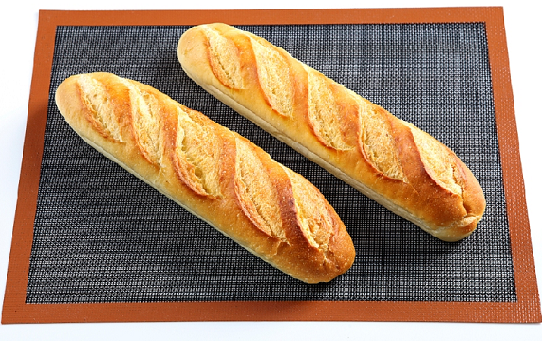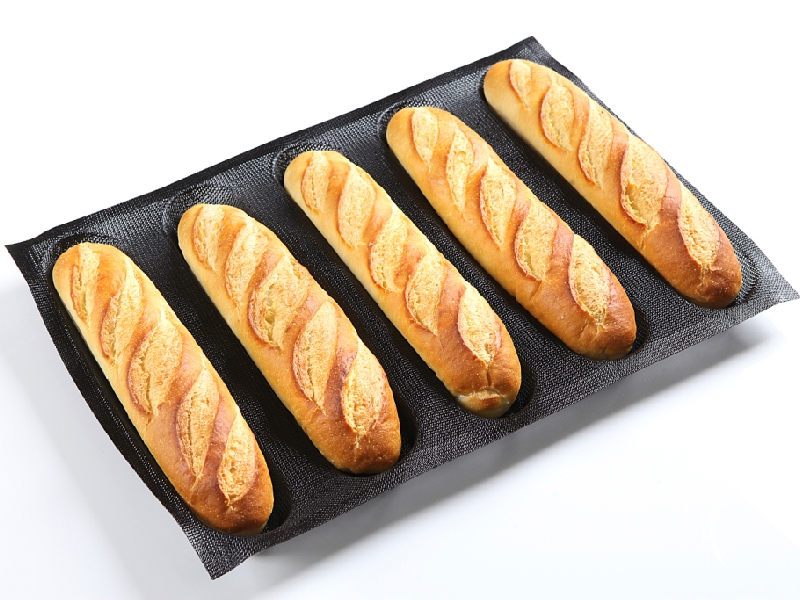 Silicone Baking Mat is made of fiberglass fabric and coated with liquid platinum silicone, Cook's Aid mat is non stick, food grade, easy to clean, reusable and no need greasing which can replace the use of parchment paper.
Utilizing Cook's Aid products save your money and time and also reduce the waste in our environment. It is ideal for use when creating baking biscuits, working with sugar and salted preparation, danish pastries and many kinds of other foods.

Silicone Pastry Mat is thinner fiberglass fabric coated with liquid platinum silicone, it is marked with easy to red measurements, which is best for rolling out dough, pastry and fondant.
Any sizes of silicone fondant mat can be made, standard sizes like 19.5" x 15.5", 17.5" x 25.375", 15.75" x 23.6", 24" x 36" is popular.

Cook's Aid perfect silicone crispy mat is coated by special technology, which results in a non stick but breathable surface, it will satisfy your bread craving by using Cook's Aid non stick baking mat.
This silicone bread mat can allow hot air circulation, make bread, pizza and all dough types foods crispy.
Cook's Aid silicone bread form is designed for home bakers, restaurant or bakery, this mold make fresh bread baked easily, and cools is very quick so you can touch the pan just few minutes after coming from the oven.
Flexible forms retain their shape even after being rolled up and stored in a small space or drawer, bakes perfectly-shaped round hamburger buns.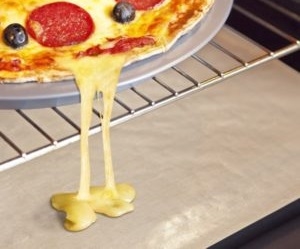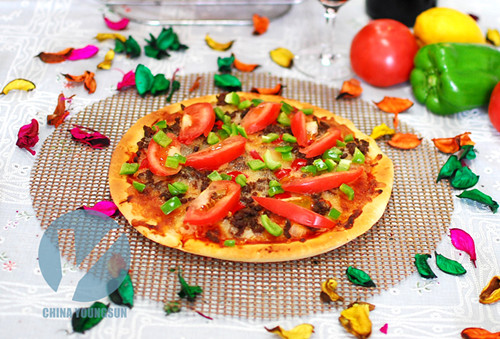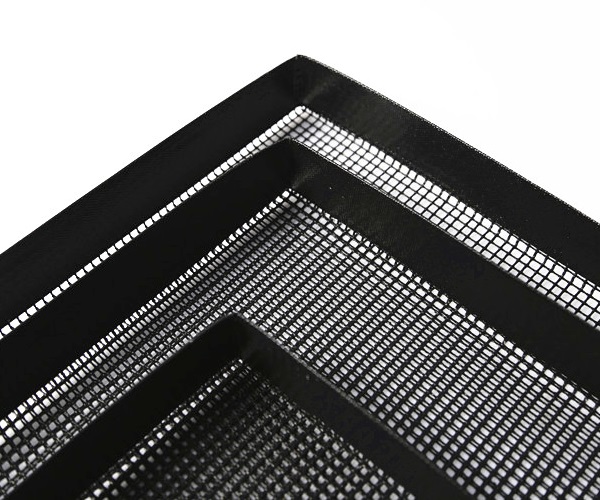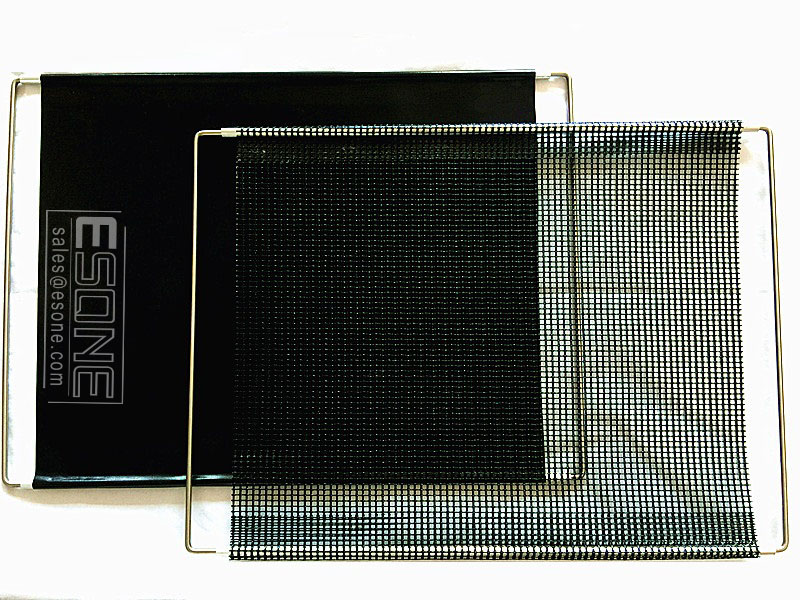 Teflon baking liner & oven liner is made of PTFE coated fiberglass fabric, by using Cook's Aid Teflon liner, you don't need to clean the oven anymore, just wipe clean this liner. The advantages is as follows.
Incredibly non-stick liner, easy clean up
Never clean the oven floor again
Oven, microwave and freezer safe up to 260°C/500°F
Reusable approximately 1000 times
Can be cut to any sizes
FDA & LFGB certificated
Pizza crispy mesh has excellent non stick surface and can allow hot air circulation, by using Cook's Aid pizza mesh, your dough foods will be more crispy!
This product can be made into any sizes to fit pizza size.
Oven crispy basket is workable for oven, toaster oven and barbecue grill, which will bake or grill food crispy and keep oven or grill always clean!
This innovative mesh design allows heat and air circulate around food to promote crispy cooking, from preparation to final baking can all be done on this basket!

Adjustable oven tray can expand and improve your cooking surface. Bake cookies, breads, pastries, and more without cooking sprays or heavily greased pans.
Use the crisper rack for perfectly crisp pizza, french fries and snacks, without having to turn foods halfway through.
Use the solid mat underneath traditional oven racks to catch crumbs and spills, making cleanup a breeze.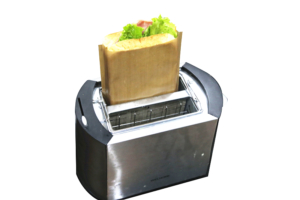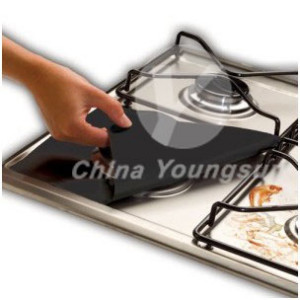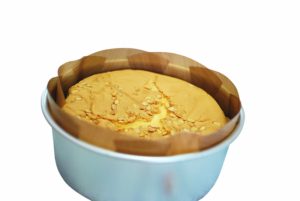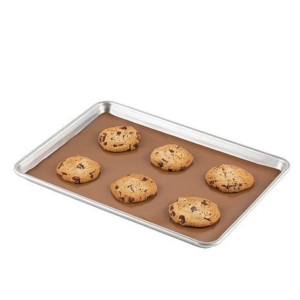 Still suffering the cleaning of toaster after making a sandwich?
Now we highly recommend our product – Toaster bag, it is made of PTFE coated fabrics, it is guaranteed super nonstick surface, cheese, beacon, butter will not stick on it.

Stove top protector is made of PTFE coated fabric, which enables its surface to be super non stick and heat resistant up to 500F.
With the non stick surface, you can enjoy cooking without worry about the falling messy on stove.
Cake liner is super non stick and can resist heat up to 260°C, it can be cut into any sizes to fit other moulds, such as 8", 11" cake mould.
Cook's Aid liner is microwave and freezer safe, FDA and LFGB certificated.
Anti-slip baking liner is one side coated with Teflon, one side coated with Silicone, by placing the silicone side onto the tray, this baking liner will never move easily.
From the preparation to the baking can all be done on this liner.