ESONE® products are used in the packaging industry due to the long lasting and easy release surface, high mechanical strength, heat resistance and superior chemical resistance property of PTFE coated fabric.
We are offering several styles which are workable for all heating systems such as microwave or RF systems.
ESONE is devoting ourselves for providing the longest lasting and reliable performance, which will maximize the productivity and reduce the production cost.

ESONE PTFE fabric with or without adhesive is typically used as heat resistant release sheet for welding of plastic package, according to application's request, PTFE coated fabric (PTFE sheet), PTFE adhesive tape or PTFE conveyor belt will be used for release.
Our product can resist high temperature and offer excellent release surface, so that the sealed package can be easily release from the welding plate. And we are offering high performance product to maximize the production capacity and minimize the down time of production line.
ESONE PTFE fabric is widely used in vacuum packaging machine, vertical or horizontal sealing machine, high speed plastic sealing machine and others.
Shrink package is a typical package for many kinds of food, toys and other consumer goods, the process is wrapping plastic (plastic sealed in the L-bar or any other sealer) and passing through the heating tunnel which will shrink the plastic to conform the contour of package.
ESONE is offering PTFE mesh conveyor belt for transporting package through oven, and silicone coated fiberglass fabric is installed at both ends of heating tunnel, working as curtain to keep heat inside tunnel.
Our PTFE mesh belt can allow heat air pass through and make the heat transfer better inside the oven, it offer excellent release surface for shrinking package.
Plastic Bag Manufacturing
Plastic bags are made from plastics (polyethylene, polypropylene, polyester, nylon and others), which are indispensable articles in people's daily life and are often used to hold other articles. It is made by cutting and sealing plastic blown film under high speed and high temperature, and is welded to seal the border of plastic bags.
According to application's request, PTFE coated fabric (PTFE sheet), PTFE adhesive tape or PTFE conveyor belt will be used for release. ESONE's product can withstand high temperature and offer excellent non stick surface, so the plastic bag can be easily released from the welding point.
ESONE is also offering special PTFE zone tape, PTFE tear resistant fabric for these applications.
ESONE PTFE cloth YS9023AJ, YS9025AJ or YS9030AJ is also used as release belt for tissue manufacturing, due to the excellent non stick surface and heat resistant property, this release belt is used for easy release in the sealing packaging of tissue box.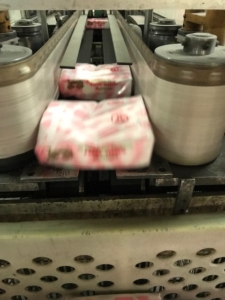 ESONE high performance PTFE coated fabric is using E-glass as basic material, and coated with high quality PTFE for excellent non stick property. This fabric is easy to release, heat resistant up to 260 degrees and has high mechanical strength.
PTFE fabric premium series, industry series and tear resistant series is available for heat sealing packaging, plastic bag manufacturing and so on.
ESONE PTFE Adhesive Fabric  is coated with high quality silicone pressure sensitive adhesive on one side, can work continuously under 260°C(500°F), yellow textured PVC release liner is applied to the adhesive surface for ease of application.
According to the material, PTFE belt is including PTFE glass belt and PTFE Kevlar belt.
According to the belt style, PTFE belt contains PTFE endless belt, PTFE belt with joint and PTFE mesh belt.
ESONE is professional in manufacturing fabric and belt, offering all kinds of PTFE belt with any sizes or style.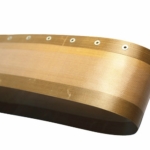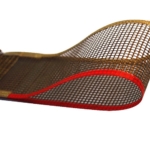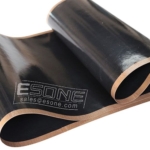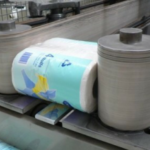 PTFE Zone Tapes have custom sized adhesive strip on both edges, and the center is non adhesive as Free Zone, it is mostly used in packaging industry for heat sealing machines.
ESONE can coat Silicone adhesive or Acrylic adhesive on the edge, the adhesive width is normally 5 mm wide for each edge, so both sides will be 10 mm adhesive edge, which will help you stick the PTFE Zone Tapes onto the sealing machines very easily.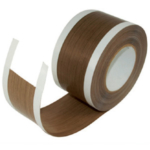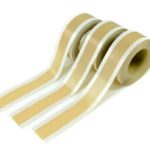 ESONE 2 ply PTFE belt is made from 3mil (0.08mm), 4.5mil (0.10mm), 5mil (0.13mm) or 6mil (0.15mm) thick PTFE fabric, which has been laminated together into two layers.
This belt is used as rotary band sealing belt for bags and sacks sealing.