For traditional energy market, ESONE product is used as expansion joint, insulation jacket and other thermal insulation material.
For clean energy market, ESONE product is used in the manufacturing of solar energy modules in photovoltaic industry, and wind turbine blade in wind power industry, or work as insulated separator in fuel cells.
In these applications, the excellent release property and outstanding mechanical strength is critical to the process performance of manufacturing and the quality of product.

Solar cells production and module lamination
PTFE(Teflon) coated fiberglass fabric is widely used as non stick release sheet in PV module vacuum lamination process, or used as conveyor belts for half cell welding machines. Since PV industry has very high request for the smooth surface, lifetime, mechanical and release property of PTFE coated fabric, so the performance of Teflon coating fabric will be a critical factor for maximum the production up time, and increasing the quality of the module.
Wind Turbine Blades Release
This application also use PTFE porous fabric and PTFE adhesive fabric. We customize PTFE porous fabric with balanced porosity & release property, and has high mechanical strength. For PTFE adhesive fabric, our mold release tape is easy release and has high mechanical strength, so that it can be reused many times easily.
ESONE PTFE fabric also names as heat resistant peel ply, this allows for the composite to be peeled from fabric after it is cured, and the result is a perfectly smooth surface.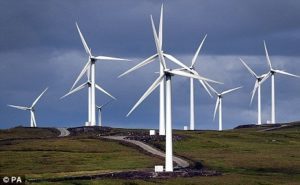 Fuel cells isolating membranes
ESONE PTFE thin film and PTFE coated fiberglass fabric is able to continuously withstand both low and high temperature, and is chemical resistant which can work in harsh chemical environment. Due to these properties, ESONE product further promote the efficiency of fuel cells, which offer modularity to cell system and work as a tight separator and seal within the cells.
These excellent properties guarantee the long lasting performance in fuel cells which are always operating in a very challenging environments. ESONE protection solution is based on multi-layer, multi-material PTFE based composites, and is reinforced with fiberglass or aramid fabric, which has the ability to perform and separator well in the challenging conditions from -150°C to +300°C, frequent flexing, elevated pressures and exposure to chemicals.
Not only that, the flame resistant property is also a important barrier solution for fuel cell application.
Catalytic Layer Manufacturing
A fuel cell is an electrochemical cell that converts the hydrogen and oxygen into electricity through a pair of redox reaction, it is green and efficient which is a important way in helping protect our environment.
ESONE PTFE coated fabric is the release belt in the decal process for the production of integral catalytic layers of fuel cells. The decal process is in a harsh working environment which is sticky and hot, and due to the heat resistant property and mechanical strength of ESONE belts, they are the reliable carrier for the catalytic ink and decal substrate.
ESONE release belt offer clean release and long lasting property for production of Catalytic Layers (Decal Process).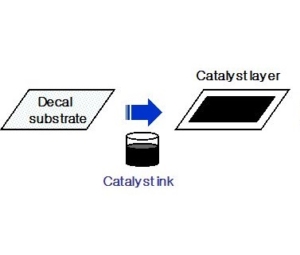 Insulation Jacket is designed to help customers save energy when traditional insulation is not practical, it is customized and wrapped outside pumps, filters, exchange, pipeline, valves, freeze protection and so on.
By using removable insulation blanket, customers can combine reducing heat loss, insulation design and wireless monitoring together.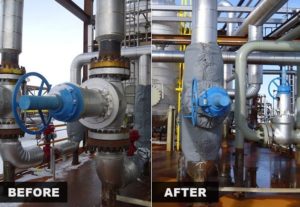 ESONE expansion joint is made of PTFE coated fabric or Silicone coated fabric, due to the unique property of ESONE material, this expansion joint provide unrivalled support for restricting the emission of pollutants in harsh environment such as coal-fired power stations.
This fabric with high mechanical strengths can resist high temperature, corrosive chemical and continuous vibration, which offer reliable environment protection while retaining excellent mechanical strength and flex property in harsh and corrosive environment.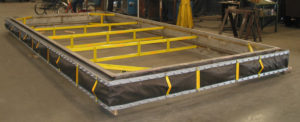 Due to the superior corrosive chemical resistant property and outstanding dielectric strength, PTFE adhesive tape and PTFE adhesive film is used as wrapping insulated material for cable in drilling oil field and many other harsh working environment in oil and gas industry. And Fluorine coated fabric or silicone coated fabric is used as insulation protection blanket since these composited material has unique properties.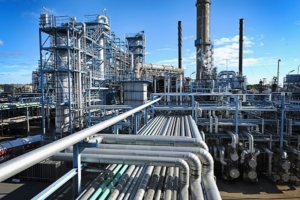 Related Product Data Sheet
PTFE coated Fabric for Energy Industry
Image
Style
Standard Width(mm)  
Please ask for other widths
Normal Thickness
(mm)
Weight
(g/m2)
PTFE Content(%)
Tensile Strength Warp/Fill
(N/cm)
YS9023AJ-ESONE
1000/1250/1500/2000/2600
0.23mm
500
60
420/360
YS9025AJ-ESONE
1000/1250/1500
/2000/2600
0.25mm
530
62
460/400
YS9030AJ-ESONE
1000/1500/2000/2600
0.30mm
625
53
680/640
YS9035AJ-ESONE
1000/1500/2000/2600
0.35mm
680
62
540/508
YS9090A-ESONE
1500/1600/2250
0.90mm
1600
47
1300/1200
YS9100A-ESONE
1500, 1700, 1900, 2250
1.00mm
1800
45
1360/1260
PTFE Fabric for Insulation Jacket
Image
Style
Coating
Standard Width(mm)
Please ask for other widths
Color
Weight (oz/yd²)
Working Temperature
YS9038HD-ESONE
One side
1500
Gray/White/Yellow
16.5 (560 g/m²)
-73 to +315 °C
YS9038HS-ESONE
One side
1500
Black Anti-static
16.5 (560 g/m²)
-73 to +315 °C
YS9040HD-ESONE
Both sides
1500
Gray/White/Yellow
18 (650 g/m²)
-73 to +315 °C
YS9086HD-ESONE
One side
1500
Gray/White/Yellow
34 (1150 g/m²)
-73 to +315 °C
Silicone Fabric for Insulation Jacket
Image
Style
Coating
Standard Width(mm)
Please ask for other widths
Color
Weight (oz/yd²)
Working Temperature
YS5038-17oz-ESONE
Both sides
1500
Silver/Gray/White/Yellow/Black/Red
17 (580 g/m²)
-73 to +260 °C
YS5045-17.5oz-ESONE
Both sides
1500
Silver/Gray/White/Yellow/Black/Red
17.5 (595 g/m²)
-73 to +260 °C
YS5095-34oz-ESONE
Both sides
1500
Silver/Gray/White/Yellow/Black/Red
34 (1156 g/m²)
-73 to +260 °C
YS5120RO-ESONE
One side
1200
Silver/Gray/White/Yellow/Black/Red
45.7 (1550 g/m²)
-73 to +260 °C
YS5200RO-ESONE
One side
1200
Silver/Gray/White/Yellow/Black/Red
73.8 (2500 g/m²)
-73 to +260 °C
PTFE Glass Adhesive Tape(without liner)
Image
Style
Adhesive Type
Category
Total Thickness (mm)
Width (mm)
Adhesion (N/cm)
YS7008AJ-ESONE
Silicone PSA
Premium
0,13
5-600
5
YS7010W-ESONE
Silicone PSA
Industrial
0.15
5-600
5
YS7011AJ-ESONE
Silicone PSA
Industrial
0,16
5-600
5
YS7013AJ-ESONE
Silicone PSA
Premium
0,18
5-600
6.4
YS7025AJ-ESONE
Silicone PSA
Premium
0.30
5-600
6.4
PTFE Film Adhesive Tape
Image
Style
Adhesive Type
PTFE Film Thickness (mm)
Total Thickness (mm)
Width (mm)
Adhesion (N/cm)
YS7908-ESONE
Silicone PSA
0.05
0.08
5-500
2.2
YS7913-ESONE
Silicone PSA
0.09
0.13
5-500
3.2