Silicone calender coated Fabric
Silicone calender coated fabric is designed to provide a excellent smooth surface, the calender coated silicone fabric offers increased tensile strength which allows for using in high temperature (continuously under 500°F) and strong pressure (maximum 1000 PSI).
This heavily coated and long life silicone fabric is a excellent solution for pressing pads in heat, cushion for pressure lamination, insulation material and so on.
The property of Silicone calender cloth is as follows.
Heat resistant
High mechanical strength
Anti-aging
Soft and can be cut
High dielectric strength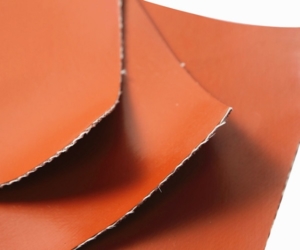 Due to the high dielectric strength and superior breakdown voltage of silicone calender fabric, this silicone fabric can be made into electrical insulation mat, electrical insulation cover and others, in order to resist the high voltage or offer insulation protection.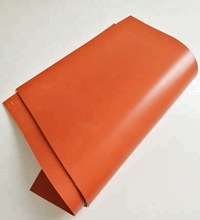 Cushion for pressure lamination
ESONE silicone calender coated fabric has excellent smooth and soft surface, it can resist high temperature and has high mechanical strength.
Comparing to PTFE liner or PTFE pillow which is also for heat press release, silicone fabric can be used in industrial to resist higher pressure because of the softness of silicone.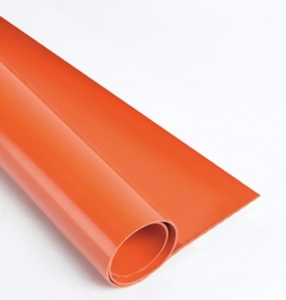 ESONE flexible silicone fabric can be used for anti-corrosive liner for chemical storage tank, pipeline and others, it satisfy demands for limiting the loss of vapor and chemical compatibility which makes storage tank safer.
Thanks for the high mechanical strength, strong chemical resistant and heat resistant property, this silicone coated fabric is specially engineered to offer excellent reliability and long lifetime in storage, containment and chemical processing.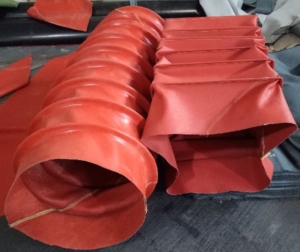 ESONE silicone calender coated fabric has superior smooth surface, heat resistant property, anti-corrosive property and strong mechanical strength, so it can be made into conveyor belts for heat and corrosive working environment.
This silicone fabric can be sealed easily and is light weight, which makes this belt easy to install, repair or replace.
Insulation Jacket is designed to help customers save energy when traditional insulation is not practical, it is customized and wrapped outside pumps, filters, exchange, pipeline, valves, freeze protection and so on.
By using removable insulation blanket, customers can combine reducing heat loss, insulation design and wireless monitoring together.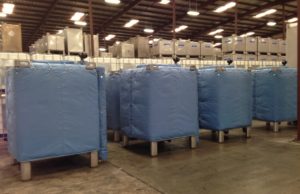 Silicone fabric is flame resistant, and it can isolate oxygen when covering the fire.
Due to this property, silicone calender coated fabric can be used as fireproof material in construction industry.
ESONE silicone coated fabric has certification of fireproof property.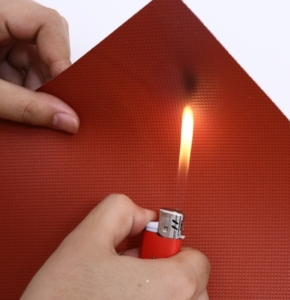 Silicone fabric can be used for flexible expansion joint between equipment, ventilating duct or pipeline, this flexible joint can relieve stress due to the thermal expansion and eliminate transmission of vibration.
This high strength composite silicone fabric is designed to withstand high temperature, chemical corrosion and constant vibration in ducting system, it provides great environmental protection while maintaining the mechanical strength and excellent flexibility property in harsh and corrosive environment.
Silicone fabric can be easily repaired or replaced because the material is light weight and no need metal support, it is widely used in oil and gas industry, chemical industry, energy industry, cement industry and others.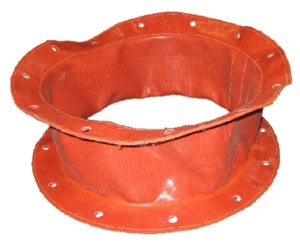 Color; Red, Black or others
Length: 50 m per roll
Width: standard is 1m and 1.2m
Coating: one side or both sides coated
Vulcanization: can be cured or uncured
Silicone calender coated Fabric
Style
Standard Width(mm)  
Please ask for other widths
Normal Thickness
(mm)
Tensile Strength Warp
(N/5cm)
Tensile Strength Fill
(N/5cm)
Breaking Strength
(N/cm)
YS5030
1000, 1250
0.30
1800
1400
1.2
YS5050
1000, 1250, 1500, 1800
0.50
2000
1600
2.0
YS5080
1000, 1250, 1500, 1800
0.80
3800
3400
2.6
YS5100
1000, 1200
1.00
4000
3800
3
YS5110
1000, 1200
1.10
4200
4000
3
YS5130
1000, 1200
1.30
4500
4300
3
YS5150
1000, 1200
1.50
4800
4400
3
YS5200
1000, 1200
2.00
5200
4800
3
YS5250
1000, 1200
2.50
5800
5100
3
YS5280
1000, 1200
2.80
6000
5200
3
YS5300
1000, 1200
3.00
6100
5300
3
YS5400
1000, 1200
4.00
7000
6000
3