Teflon mesh fabric YS6030 triple weft
Teflon mesh fabric YS6030 is woven by triple weft and triple warp, the tensile strength and lifetime is better than double weft mesh series. It is the excellent long lasting belting material for screen printing, drying, laminated glass manufacturing, packaging industry, non woven manufacturing, wood processing industry and so on, and it is also used as porous architecture membrane material due to the high mechanical strength and high transmission of light.
2 x 2 mm PTFE open mesh fabric is FDA & LFGB certificated, can be used in direct contact with food.
Specific performance of Teflon mesh fabric
★ Extra strong mechanical strength
★ Excellent belting material
★ Great for architectural membrane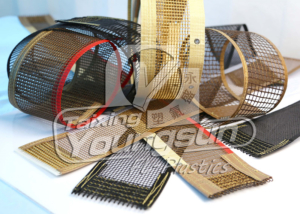 Technical data sheet of YS6030 triple weft
| Product | Product Category | Coating |
| --- | --- | --- |
| PTFE GLASS FABRIC | STRONGER FIBERGLASS SERIE | PTFE |
Properties
Metric
Imperial
Standard width
Please ask for other widths
1000, 1500, 1700, 2050,2700, 3200, 3400,3600,3800, 4000 mm
39.5, 59, 67, 81,106, 126, 134,142,150, 158 inches
Mesh Size
2 x 2 mm
0.0787 x 0.0787 inches
Weight
660 g/m²
19.5 oz/yd²
Weft
Triple weft
Triple weft
Warp
Triple warp
Triple warp
Tensile Strength
680 N/cm Warp
389 lbs/inches Warp
620 N/cm Fill
354 lbs/inches Fill
Color
Brown
Brown
Temperature Resistance
-73 to +260 °C
-100 to +500 °F
Different splices & joint & edge reinforcement
ESONE is not only offering the full range of PTFE open mesh belt, but also providing any kinds of splices & joints & edge reinforcement.
Teflon belt manufactured by ESONE will be your reliable long lasting and high performance partner!
PTFE Mesh Belt
Belt Material
PTFE glass fabric
PTFE Kevlar fabric
Belt Joint
Bullnose
Alligator
Plastic
Belt Edge
PTFE glass edge
PTFE film edge
PTFE Kevlar edge
Belt Guide
PTFE guide
Kevlar guide
Silicone guide
Belt Pin
Stainless Steel Pin
PTFE Pin
Alligator Pin