BBQ Grilling Mat is made of PTFE Coated Fabrics.
Coating of PTFE(also called Teflon) can resist high temperature( up to 260 degrees/500F), also, PTFE guarantees grilling mat's surface to be super smooth.
It wipes clean, evey during your BBQ cooking, no need to use toxic cleaners.
What is more, inside glassfiber fabrics enables longer lifetime of BBQ Grill Mat.
If you take carefully, it can be used for thousands times.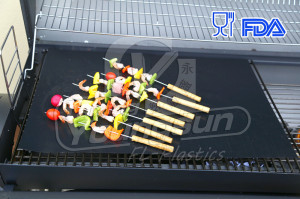 bbq grilling mat
Worry about the safety of Grilling Mat?
No need, because all of our Grilling Mats have passed FDA & LFGB Certificate.
As a manufacturer, we offer OEM service to customers involving in food industry.
We can also help in packing designs.
Main specifications of BBQ Mat:
Thickness: 0.20mm

Color: Black

Size: 40cm * 33cm
Packing of the Grilling Mats:
One/Two pieces per box for retailing.
50/100 pieces per Opp Bag for wholesealing.
Please feel free to contact us for further details of BBQ Grilling Mat