PTFE coated glass fibre fabric YS9023AJ
PTFE coated glass fibre fabric YS9023AJ is a cost effective release sheet or belt for many kinds of industry, such as solar cell production, compression moulding release, textile manufacturing, wood lamination, tortilla belts and others.
ESONE YS9023AJ has good release property and long lifetime, it can be anti-static to eliminate static during operation.
Specification of Teflon coated fiberglass cloth
| Product | Product Category | Coating |
| --- | --- | --- |
| PTFE GLASS FABRIC | INDUSTRIAL SERIES | PTFE |
Properties
Metric
Imperial
Standard width
Please ask for other widths
1000, 1250, 1500,
2000, 2600 mm
39.5, 49.3, 59.1,
78.8, 102.4 inches
Thickness
0.23 mm
0.0091 inches
Coated weight
500 g/m²
14.75 oz/yd²
PTFE content
60 %
60 %
Tensile strength
420 N/cm Warp
240 lbs/inches Warp
360 N/cm Warp
205 lbs/inches Fill
Temperature resistance
-73 to +260 °C
-100 to +500 °F
Application of PTFE coated fabric YS9023AJ
Thermal Lamination Manufacturing
Thermal lamination is a typical process for producing lightweight and high performance composited material in automotive industry.
ESONE PTFE coated glass fibre fabric is a important aid for the lamination operations of decorative material, organo sheet, molten polymers, adhesives and others. These PTFE coated fabric is used as release sheet or conveyor belt due to the excellent temperature resistance, abrasion resistance and easy release surface. ESONE release solutions will ensure the excellent surface of finish product and maximum the output & machine productivity.
ESONE defect free and smooth PTFE coated fabric offer long lasting release property, we are your reliable partner for high performance product.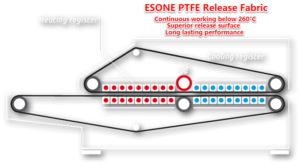 Compression moulding manufacturing
Compression moulding is a cost effective processing for the production of high tensile and lightweight automotive parts.
ESONE PTFE release tape, release belt and release sheet is a processing aid for bonding, converting or shaping materials into composite parts. Our product will protect the reusable moulds and offer easy release surface, and due to the superior heat resistant property, high mechanical strength and strong abrasion resistance, the high quality of finish product and high production capacity will be ensured.
ESONE PTFE release sheet and release belt is workable for any kinds of compression moulding equipment, with features including guidable edges, different types of joints, smooth or texture surface and others.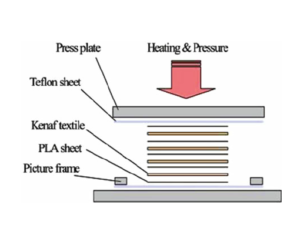 Rubber extrusion and curing
ESONE PTFE coated glass fibre fabric are a perfect solution for the rubber extrusion and curing line. Our product widely used in the manufacture of rubber profiles, ESONE PTFE belts can continuous working below 260°C and offer excellent release during curing and cooling of PVC, PU, PE or others.
The non stick surface means that nothing will be left on the Teflon belt, this belt will transfer rubber through the microwave oven or electric oven for curing process and the rubber will has excellent smooth surface.

PTFE coated glass fibre fabric for Tortilla belt
Due to the excellent non stick and long lasting performance of PTFE cloth, ESONE PTFE coated fiberglass fabric is used as conveyor belt for tortilla industry.
ESONE PTFE tortilla belt is the best solution for tortilla working environment
Resist high levels of oil and grease
Resist continuous pressing and running
Belt must transfer heat well
Easy release surface
Long life time of tortilla belt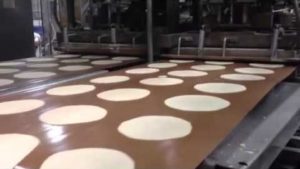 Solar cell production and module lamination
ESONE PTFE coated glass fibre fabric are widely used as release sheet in PV module vacuum lamination process, or used as conveyor belt for half cell welding machines.
Since PV industry has high request for the smooth surface, lifetime, mechanical strength and easy release property of PTFE coated fiberglass fabric, so the performance of PTFE coated cloth will be a critical factor for maximum the production up time, and increasing the quality of module.