Modified PTFE fabric for frying machine & contact grill
Due to the severe working environment like high oil and continuously pressing, frying & grilling machines have high request to the non stick conveyor belts. If the non stick & tear resistant properties of the PTFE coated fabric is poor, then the lifetime of the Teflon belts will be only several days.
This application has highly request for the following properties of Teflon belts.
Non stick & smooth surface
Strong tensile strength
Superior tear strength
Excellent pear strength
As a PTFE fabric manufacturer, we need to offer high and stable qualified product, so that the output of the grilling machine can be maximized and the downtime can be minimized. In this case, our modified PTFE fabrics were produced, they are coated and laminated by special process, and they can meet the request of tortilla industry.
In order to help customers understand the key property of our PTFE modified fabric, we will introduce our production processes as follows.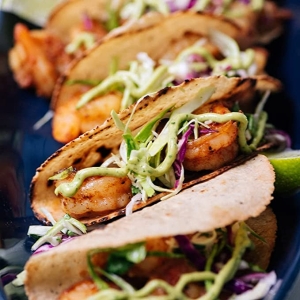 The coating process of regular PTFE fabrics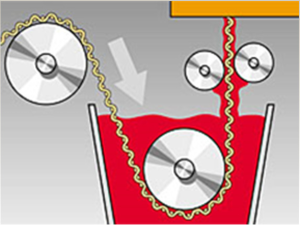 Teflon coated fabric is coated with liquid PTFE, which is made of 60% solid PTFE content and 40% water, and the coating process is vertical processing as the left picture. Most of the water evaporated or flowed down during coating, but few water evaporate will go up together with PTFE and explode when sintering with 390°C / 734°F! After the explosion of water evaporate, pin-holes (crators) will be generated! Like the following picture. Which means this explosion part is not Anti-Stick!

The coating & laminating process of ESONE modified PTFE fabrics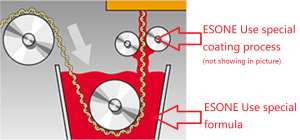 ESONE use special formulated PTFE liquid and special coating process to avoid the water explosion. We will minimize the coating time so that the mechanical strength of PTFE fabric can be enhanced, and the coating adhesion can be guaranteed.

In order to improve the sealing, release and hardness property, ESONE will heat laminate & calender PTFE coated fabric during the coating process. By applying this process, the crators will be filled up and the surface will be excellent smooth.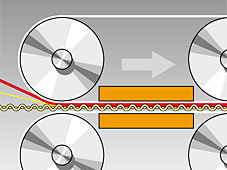 Picture of the surface under a microscope

PTFE coated fabric – standard

PTFE Modified coated Fabrics
Applications of Modified PTFE fabric
In ESONE, you can get the durable tortilla press belting and reliable service!
With the special formula and construction of the Modified PTFE fabric for tortilla industry, the output of customer's product will be increased and the cost for production will be reduced, because of the excellent long lasting non stick surface and high mechanical strength of ESONE belts.
The quality of ESONE Teflon belt is better and better due to the increasingly customer's demand in a more non stick surface, more oil permeation resistance, better heat transfer, stronger abrasion resistance and a superior dimensional stability in order to resist the repetitive contact with heat press.
Let's help to keep your production lines running continuously smooth!