Silicone Adhesive Tape YS7011AJ, hot selling Industrial PTFE adhesive tape
Silicone Adhesive Tape coated with PTFE, has anti-stick surface and heat resistant property, the basic construction is woven fiberglass fabric, which gives strong mechanical strength.
This heat resistant and non stick adhesive tape allows for easy release, while making sure good mechanical strength and dimensional stability.
ESONE Silicone adhesive tape is the product of choice where there is a request for continuous and efficient processing, offering superior initial tack, excellent bonding strength and long lasting performance up to 500˚F/260˚C.
Properties of Silicone adhesive tape
★  Excellent dimensional stability and durability in heat.
★  Superior easy mold release property, excellent Non stick
★  operating continuous from -70°C and +260°C
★  Flame resistant
★  High dielectric constant
★  Good mechanical strength
Regular size for Teflon adhesive tapes
Normal size is 1 meter wide, 30/50/100 meters long per roll, with yellow release liner.
Or can be cut into small roll, like 1.2cm, 2.5cm, 5cm, 7.5cm, 10cm wide and so on, 5m, 10m, 30m, 50m per roll.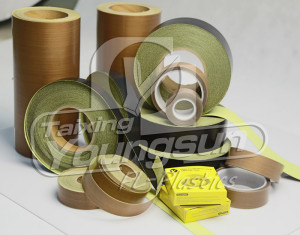 Technical Data Sheet of PTFE adhesive tapes
| Product | Product Category | Coating |
| --- | --- | --- |
| PTFE GLASS FABRIC SELF ADHESIVE | INDUSTRIAL SERIES | SILICONE PSA |
Properties
Metric
Imperial
Standard width
Please ask for other widths
1000, 1250 mm
39.5, 49.3 inches
Backing Thickness
PTFE glass
0.11 mm
0.0043 inches
Total Thickness
PTFE glass and adhesive
0.16 mm
0.0063 inches
Baking weight
PTFE glass
220 g/m²
6.5 oz/yd²
Tensile Stength
PTFE glass
240 N/cm Warp
137 lbs/inches Warp
200 N/cm Fill
114 lbs/inches Fill
Adhesion
5.4 N/cm
49 oz/inches
Temperature resistance
-73 to +260 °C
-100 to +500 °F
Click here to download the TDS of YS7011AJ-ESONE
For samples of Silicone Adhesive Tape ,  please feel free to contact us.
Other Width is also available, you can contact us for more information
Note:
Thickness Tolerance mm= ±%5
All technical data are based on average values.
These values are based on test results we believes to be reliable.